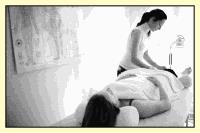 The ancient sciences of Life, Yoga and traditional Chinese Medicine offer powerful tools and techniques to live in harmony with nature, the seasons and the elements. The winter class introudces the relevant energy and organ system, introducing simple yoga postures (asanas), breath work (Pranayama), relaxation, and meridiam massage tools.
This class offers you practical tools and techniques to integrate yoga and Chinese Medicine into your daily life.
ABOUT ANGELA CHAMBERS-ETTER
Angela completed her Diploma of Traditional Medicine at the Sydney Institute of TCM (Australia) and the University of Western Sydney in 2003. She trained further at the Zhejiang College of Traditional Chinese Medicine in Hangzhou, China and the College of Traditional Acupuncture in Hatton, UK. Angela was very lucky to have teachers such as the famous Dr. Jane Littleton, Daniel Waldmann and Will McLean.
Recurrent episodes of back pain in her early twenties brought Angela to Yoga. It changed her life and in 2002 she undertook the Ryoho Yoga Teacher Training in Sydney, Australia under Andrzej Gospodarczyk (founder of Ryoho Yoga). She has been teaching Yoga since 2003 and is continuously deepening her yogic studies with teachers as Shiva Rea and Tias Little. Both of whom influenced her practice and teaching greatly.
Her special interest is to combine the health promoting benefits of Chines Medicine with the restorative and balancing techniques of Meridian Yoga. She teaches in a fun, relaxed and practical way, helping people to integrate the principles of Yoga and Chinese Medicine into daily life.
PROGRAM
Saturday 21. November 2015
10:00-12:30
PRICES (reserved in advanced)
50.- General
45.- B.Yoga members
35.- Students
60.- Drop-ins (no reservation)
More Information & Reservations: info@byoga.ch